Actually, not really crazy, but actually sad. And ironic. When she tells her buddy Sean Hannity that she is interested in working outside her Fox bubble (my words), but
won't waste her time with Katie Couric
, she adds this typically Palinesque critique of the media:
"'I want to help clean up the state that is so sorry today of journalism,' she added. 'And I have a communications degree."
And she wants to be President. Of course, we have already had one idiot as President, so why not? And speaking of that guy, we might want to remember what he actually did as President--invading a country on false intelligence and then authorizing torture--regardless of
the story he is telling now
.
But it isn't just Bush and Palin. Just reading through the Huffingtonpost this morning, I see that
Rand Paul compares Obama to Hitler
, and
Michelle Bachmann says that Obama is anti-American
.
And this, as SOF pointed out to me, from the Simpsons, on the racism of the right.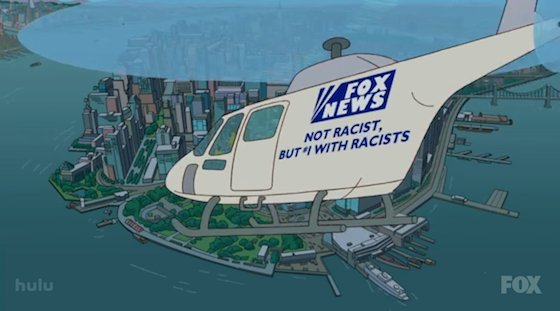 People like to point to the crazies on the left, including some from the 60s who advocated violence. Those groups were not incorporated into the Democratic party. In fact, they hated the Democratic party. But on the Right, the Republicans have worked very hard to make the racists and crazies feel at home.